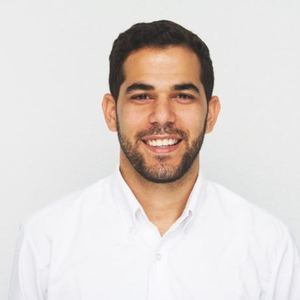 Gabriel Abed
Special guest
Gabriel Abed is widely recognised as a leading authority on digital currencies, math-based protocols and blockchain technology global- ly, and is the first entrepreneur to establish a blockchain company in the Caribbean. The Barbados-based entrepreneur is international- ly-acknowledged as a pioneer in the digital currency evolution, having initiated the first global movement to encourage the use of Central Bank digital currencies. Abed has led presentations and engaged in discussions with the Caribbean Development Bank, the International Monetary Fund, the World Bank, the United Nations, the Commonwealth Secretariat, and at various fora organised by Central Banks globally.
In 2010, Abed began studying blockchain technology at the University of Ontario where he graduated with honours in Information Network Systems. Several months later, he established the Caribbean's first blockchain company, BitEdge. In 2011, he set-up and ran the largest cryptocurrency mining operation in the Caribbean. In 2014, he co-founded Bitt Inc. in Barbados, whose current clients include the Central Banks of Barbados and the Eastern Caribbean Central Bank. During his tenure as CEO, Bitt raised $16M USD in 2016 from interna- tional investors. Currently, Bitt is known for its application of mMoney, which is championed by Barbados' Prime Minister Mia Amor Mottley and has seen widespread adoption across services in Barba- dos including large merchants such as The Sol group, ICBL (Insurance Corporation of Barbados Limited) and other 500+ merchants which comprises of local restaurants and other business entities.
In April 2018, Abed was appointed as the Special Technology Advisor to the Honourable David Burt, Premier of Bermuda and has been advising the Premier and his government on establishing their policies and best practices related to blockchain and cryptocurren- cies, as well as creating a vision for the nation to create a new industry for its future growth and economic prosperity. In January 2018, Abed coined the term "government as a service" (GAAS), referring to a project undertaken with Bermuda to create the world's first block- chain-based government framework for export globally. In February 2019, Abed's vision for GAAS was referenced by the CEO of Overstock, a large US public company, in an article.
In addition to his many business ventures, Abed also believes in creat- ing an environmentally sustainable Caribbean, and has launched several initiatives including the Sargassum Seaweed Clean up Project and the Fruit Tree Project, a pilot that involves planting fruit trees across Barbados for the purpose of distribution in public schools and hospitals, the first trees of which were planted in October 2018.
Gabriel Abed has been a guest on 3 episodes.
July 30th, 2020 | 29 mins 51 secs

barbados, bitt, central bank, central bank digital currency, crypto

In today's episode, we have a super panel, featuring the Ex governor of the Barbados Central Bank, Dr. Deslisle Worrell, Founder of Bitt.com Gabriel Abed, and the CBDO of Bitt.com, Simon Chantry. We uncover the amazing story of how Gabriel and his team defied all odds with their crazy idea for central bank digital currencies, and how they managed to get a nod of approval from the governor of the central bank himself. We also look into how the events unfolded over the years, what the future holds for CBCDs and how Bitt.com plans to implement CBDCs across the Caribbean.

October 14th, 2019 | 49 mins 40 secs

bitcoin, central banks, demand, maths, monetary policy, programmable money, supply

Bitcoin. The US dollar. Litecoin. The Euro, oh and wait how can we forget gold. Money - the thing that drives this world, for the good or better, is going through an unprecedented shift like never before. It's becoming digital and programmable. In this live episode we did at Gitex with the Future Blockchain summit, I sit down with Gabriel Abed and Aruba Khalid to discuss the Future of Programmable Money and we look at it through three lenses, Money for the authorities, money for the corporations and money for the people.

June 24th, 2019 | 38 mins 34 secs

bitt, central bank, facebook, libra, private money

Gabriel Abed, Founder of Bitt, joins Encrypted to explain and discuss Facebook's recent announcement of launching a stable cryptocurrency called Libra. Ahmed and Gabriel go through what Libra is, how it works, how different it is to other cryptocurrencies we currently have, the approach Facebook are taking and ultimately what this means for the crypto industry, for people globally and monetary authorities and central banks alike.