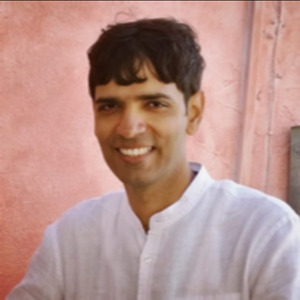 Pranav Sharma
Special guest
Pranav has over a decade & a half year leadership experience covering Business Development, Sales & Distribution, Asset Management, Private Equity & Insurance. He is passionate about Entrepreneurship, Technology and Renewable Energy. He has always taken challenging roles covering wide gamut of area like Cutting tool & Wind Power Sales as an Engineer (India), Private Equity in Renewable energy Sector (Philippines), Strategic initiatives in Financial Services (in India, Dubai, Singapore and Korea). He has worked with Sandvik Asia, Suzlon Energy, Alternergy Pte & Aditya Birla Group. In Aditya Birla Group he was part of Young Talent & leadership program and has been with Aditya Birla Chemicals (Thailand), Corporate Strategy (Mumbai) & Aditya Birla Financial Services Group.
Pranav is currently co-founder & Managing Partner at Woodstock Fund (www.woodstockfund.com) & Director – Woodstock Consultancy. He is an Advisor - Alpha Omega Capital (DSO Fund), Advisor - Alliance Block (Decentralized Investment Banking Platform) & Advisor – Orion Protocol (Liquidity Aggregator). He also helps SMEs with Debt Fund raising & is helping one of the largest Brokers in India with their SME Strategy & setting up a SME Fund. He is also an avid Digital Asset & startup investor.
Pranav is a Mechanical Engineer from Vishwakarma Institute of Technology (Pune university) and MBA from Asian Institute of Management (Philippines) and HEC (Paris). He has done a course in Islamic Banking in Malaysia. He has done Diploma in Import Export Management from India Merchant Chamber (India). He has been a scholar throughout his academic career & has gone through multiple professional courses & leadership programs. He has been an active speaker in various Business forums in India in SME space. He volunteers actively with Isha Foundation (NGO).
His expertise lies in identifying, understanding & contributing on structuring & executing business side of Startups. He has been able to pick most of the multi-bagger crypto projects in the past 3 years. He has his own methodology for Investing after detailed due-diligence, helping Startups Fund-raise & post ICO to strengthen the Startup through strategic inputs & his connections across Funds, Enterprises & Industry leaders.
Pranav has a deep understanding of SME context on business & financial services side. On one hand, he has helped SMEs raise funds & take Insurance cover. On the other hand, he has built pioneering institutional infrastructure like SME Counselling, SME University & tied up with over 15+ SME associations, over 3000+ SMEs outreached, over 800+ SME Distributors trained & 30+ SME Workshops
Since, he has closely worked with Institutional Investors, Corporates, Small & mid size enterprises & Start up alike, he can contribute to success of ICOs in both pre ICO & post ICO stage.
Pranav Sharma has been a guest on 1 episode.
September 22nd, 2019 | 30 mins 52 secs

crypto, economics, fund, investment, tokens, trust

There are over 2000 different cryptocurrencies and tokens on the market. How can you assess them, and how can you differentiate the good token models from the bad? Ahmed sits down with Pranav Sharma, Founding Partner of Woodstock Fund, where they discuss investment vehicles in crypto projects, how to assess token models and why tokens are a unit of trust.