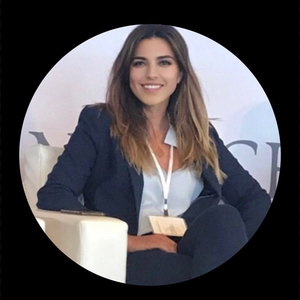 Maja Vujinovic
Special guest
Maja Vujinovic has over seventeen years of global experience as a corporate strategist, entrepreneur, executive, innovator, investor and technologist.
She currently leads OGroup, an investment and advisory firm that acts as an outsourced "CIOr" focused on driving tangible pilots in technology, decentralized business models and cost cutting across various sectors.
In her previous role as a CIO of Emerging tech globally for GE Digital, she worked with executive leadership to drive specific pilots in trade finance, corporate treasury, supply chain and IoT, uncovering billions of dollars of trapped cash and creating more streamlined business processes and efficient systems.
Ms. Vujinovic also provides support and collaboration to countless executives, leaders, technology start ups, CTO's, investors, entrepreneurs and single and multi family offices globally, helping them navigate new business models, exit and invest current or future projects.
Ms. Vujinovic regularly presents to elite members of the business and policy community globally. She is also on the board of CoinDesk.
Maja Vujinovic has been a guest on 2 episodes.
June 10th, 2020 | 46 mins 45 secs

chief digital officer, covid19, data, digital identity, ethics, privacy

Maja Vujinovic, Ex CIO of Emerging tech globally for GE Digital and Vinny Lingham, Founder and CEO of Civic joins this special episode of Encrypted where we discuss how the world is becoming increasingly divided with recent events, how technologies like blockchain is increasingly becoming relevant with digital identities on the rise and why we need ethical leaders and corporations to lead us into the new generation of technology.

March 3rd, 2019 | 43 mins 19 secs

In Episode 28, Ahmed and Faisal do their first remote recording online with their guest. Maja Vujinovic, CEO at OGroup and Former CIO of Emerging Tech at GE, joins this episode to share her works and thoughts surrounding behavioural science and crypto economics and how they will ultimately play huge in large corporates and governments!