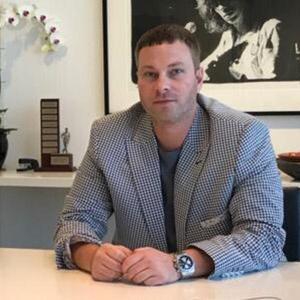 Erik Mendelson
Special guest
CEO/CO-Founder Cre8tor.app (formerly RecordGram) & Tune Token
Executive music producer and artist manager Erik Mendelson graduated on the Dean's List with a Bachelor's Degree from Rutgers University and is currently the CEO of Cre8tor.app (formerly RecordGram) & Tune Token.
He believes blockchain technology and tokenized ecosystems are going to redefine the music industry by allowing for greater transparency between all of the stakeholders in the creation, discovery and distribution of music.
Erik's vast range of tenured entertainment experience comes from stints at Interscope Records, Loud Records, Hot 97, Elektra Records and Jive Records serving in marketing and radio promotion roles for some of the biggest music superstars.
In May 2017 Erik's company Cre8tor.app (formerly RecordGram) won the coveted TechCrunch Disrupt Cup which is the most prestigious prize for a startup technology company. During the same year, Erik and his Co-Founder was featured on Apple Music's original content series "Planet of the Apps" which included celebrity mentors Jessica Alba, Gwyneth Paltrow, Gary V and will.i.am. The multi-episode series received ten thousand applications but only 36 apps were selected for the show. Of those 36, only 15, including Cre8tor.app, received funding from globally recognized VC Lightspeed Venture Partners. Cre8tor also received additional funding from the New World Angels which is Florida's largest Angel investor group and Monique Mosley, a tenured music, film and advertising executive.
Prior to receiving investment, Erik participated the Project Music accelerator in Nashville which was financially supported by some of the most influential record labels, music publishers and artist management companies.
In 2006, Erik started Answerman Management signing his first artist MIMS to a 5 album deal with EMI/Capitol Records, serving as the Executive Producer for the album that grossed over $16 million. Additionally, Erik has signed 2 other clients to major recording deals generating over $18 million in revenue. He's also responsible for signing POP superstar Jason Derulo to his first production deal and assisted with procuring a publishing deal between Sony/ATV and the Grammy award winning production duo Da Internz.
Furthermore, he has successfully implemented strategic and progressive marketing initiatives over his career and is a proven leader in developing new revenue streams for ongoing businesses in the entertainment industry.
Erik's accomplishments range from negotiating multi million-dollar major recording and publishing deals to booking tours and negotiating licensing deals including a $9 million Microsoft campaign.
Additionally, Erik regularly speaks on music industry panels discussing progressive marketing, promotion and advertising strategies. He's considered a pioneer in the digital music landscape helping to create Digiwaxx Media and has executive experience in dealing with content acquisition, contract negotiation and developing cross-functional relationships between internal and external departments including artists managers, booking agents, media personnel and advertising agencies.
Erik has strategically aligned his clients and brands with targeted consumers thru the use of integrated marketing campaigns. All of his clients seek his expertise in guiding campaigns that go above and beyond traditional marketing, promotion and advertising techniques.
Erik has won numerous technology awards and has received press in Techcrunch, Forbes, Inc, Billboard, NPR, Mass Appeal and many more.
Erik Mendelson has been a guest on 1 episode.
November 5th, 2019 | 42 mins 28 secs

artists, blockchain, music, musicians, rights, tunetoken

The intersection of music and tech promises a lot, and in this episode we explore how the blockchain will affect the music industry. We discuss how the record industry is not paying it forwards to the artists and creative teams involved in music production and how blockchain through Tune Token and Cre8tor app will enable a fair share of earnings.